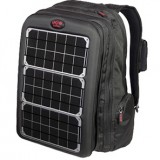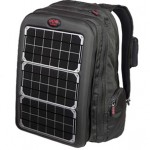 The solar backpack is typically a cloth sack that is portable enough to be carried on the back or over the shoulders of the individual.  It is normally equipped with a flexible moncrystalline solar panel, batteries, cords, plugs, light bulbs, and charge controller.  The mechanism allows for the conversion of sunlight into usable electricity to provide power to common portable electronic appliances and devices.
Normally the limitations of the solar backpack are for equipment that is rated for a maximum of 300 watts only.  It usually delivers power that can last for up to 120 watt-hours per day.  There are many practical applications that can make this device extremely functional like in the case of field research, international aid, emergency power, or disaster relief among others.  Consider the following factors when buying this particular device:
Powerful design
The original design of the solar backpack is known as the REPPS (Rucksack Enhanced Portable Power System) and was intended for the use of the United States Army Communications-Electronics Research, Development, and Engineering Center.  The system featured a 62-watt solar panel blanket for use by the US Army stationed in Afghanistan.  This however was not the first implementation of this system.
Previously the US Air Force and the Marines used almost the same type of system for their operation.  The REPPS has proven valuable in the field that it has remained in use by the 173rd Airborne Brigade Combat Team based in Logar, Afghanistan.  When buying this type of device, make user that it has the same powerful design to get the most out of your money and remain functional with every use.
Capable of powering laptops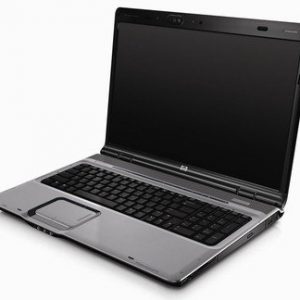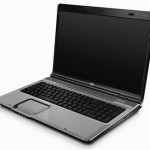 Undoubtedly the functionality of this type of device can vary substantially depending on its manufacturer.  When on the market, make sure that you look for one that is functional enough to power laptops for 3 hours on the average.  This will give you a good gauge of just how much it can deliver in terms of electricity.  It is likewise important to realize that not all solar backpack models are capable of charging laptops, which means that those that can are a bit more expensive.
One important thing to consider though is that not all laptops were designed to receive power from an external battery source.  This means if charging laptops is one of your intended uses for this device, you must consult your product manufacturer of the availability of this feature.  Otherwise, you may have a functional source of solar energy, but your device may not be fully compatible with the electricity it outputs.
Length of exposure
Essentially, when buying this type of device, you want to take into consideration the charging factor.  Models can have significantly different charging time requirements, which mean that the length of exposure to the sun to achieve a full charge can be different.  Basically, you would want to consider a solar backpack that is capable of powering emergency lights for approximately 14 hours after just six hours of exposure to the sun.
This is extremely advantageous especially for those who are living off the grid as well as those in jurisdictions where sunlight is extremely limited.  The longer the exposure time, the more waiting time required before this device becomes fully functional.  If you are continuously on the move, you may not have the luxury of waiting.  You also have to consider that not just because you are outdoors, you automatically have complete access to sunlight.
Capable of higher power outputs
The flexibility of these types of solar power devices is normally measured by the type of devices they can power up.  One of the more challenging equipment that you need to take into consideration, especially when in humanitarian relief missions is the ability to deliver power to medical equipment.  It is safe to say that not all portable solar power sources are capable of delivering this kind of functionality.
To get optimum value for your money, you must realize that an important factor to consider is the ability of solar backpacks to store excess power, which you currently do not need, but can be readily called upon later on.  This will allow you to absorb as much of the free solar energy that you can and have the peace of mind that you can use it immediately in cases of emergency.
The best solar backpack can deliver power even in remote areas
When considering solar backpacks, you must be very keen on the factor that your location should never pose a hindrance on the manner of charging.  For this, you would need to inquire from the manufacturer the flexibility of using the solar backpack charger.  Essentially, there would be no problem with charging if you are at home or in the campsite, but, when on the move, there may be some issues you will be forced to contend with.
There is a solar backpack review that suggests that it would be ideal to opt for a solar backpack charger that allows charging not only from sunlight, but also from conventional electric sources.  This type of flexibility allows you to take advantage of the device even when stationed in localities where the sun never shines for months for example.  This also gives you the convenience of charging the unit at home at night to be ready for use in the morning.
Lightweight and easy to carry
The common driving motivation to buy this device is convenience and flexibility.  This purpose would be negated if it is extremely difficult to carry because of its weight.  Essentially, you would want to gain access to a simple device that will make your life easier as well as cut down your bills while limiting carbon footprint.  It the unit is not lightweight and not designed adequately for on the go activities, then it is not worth your money.
It is equally important to consider a solar backpack that is waterproof.  Keep in mind that majority of the uses of this device would be outdoors and in remote areas.  This means that it needs to be functional regardless of the weather.  It is therefore an important factor to consider the capability of the device to charge and deliver power regardless if it is raining, snowing, or cloudy.
Do not get the wrong notion that all of these factors can only be satisfied by high-end solar backpacks.  There are a number of affordable devices in the market that will give you the best value for your money.  Keep all these factors in mind to have the best solar backpack for you.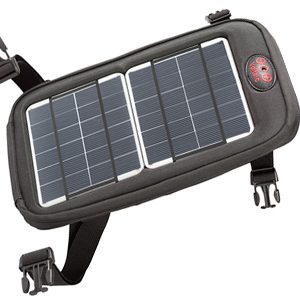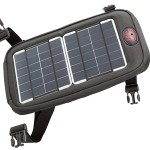 Backpack Solar panels can be a great idea for a gadget-savvy person who loves the outdoors. Spending a lot of time out of the home or office can increase your reliance on wireless, battery-powered devices, so having the means to power them while you are out can be a problem. Having solar panels on your everyday backpack might be the solution to this technology conundrum.
The trouble lies in finding a tough and durable backpack capable of withstanding your outdoor ventures, as well as solar panels which are effective in absorbing sun rays. You will often be faced with buying cheaply made solar backpacks that end up fraying and tearing apart. Staying away from cheaper solar panel mechanisms will also prevent your devices from electrical harm that will leave your valuable gadgets broken and worthless.
Backpack Solar Panels, So What's The Deal?
If the name of the object wasn't already a clear indicator of its function, a backpack with solar panels is just that. Solar panels are weaved and mounted into the largest exterior portions of the backpack, and are wired into the bag's compartments in order to provide power to nearly any gadget you carry on a daily basis.
Solar panels today are thin and lightweight enough to be mounted nearly anywhere, and that includes your backpack. While their reflective coating may seem to reflect sunlight rather than absorb it, the solar cell is coated with a thin, anti-reflective treatment that will prevent energy loss. These thin solar sheets also have a protective coating to protect them from the elements.
Solar panels inside a backpack can also be wired up into an internal battery, which stores all of the solar power gathered. If you end up indoors after being out in the sun for a long time, then this means your devices can still draw power from the internal battery. However, the battery will run out of power eventually, unless you go outside and charge it up with solar power again.
Some internal batteries can be hooked up to other power sources, such as a wall outlet, or your car. This makes having a backpack solar panel with a built-in battery even more useful, giving you the capability to draw power from more power sources than the sun.
[box_alert]The only downside of backpack solar panels is that they do not produce nearly as much power as larger solar power sources, or common wall outlets. On average, an hour of solar power will only be enough to power a cellular phone for about an hour or two. If you have more than one device hooked up to your backpack battery, then this time may decrease, or your backpack battery will use up more power to charge each of your devices equally.[/box_alert]
If you are an avid outdoorsman, then here are some gadgets you may take with you into the wilderness that will eventually need charging:
GPS Devices, so that you don't get lost when trekking into the woods.
A cell phone, to contact people if you do end up lost or without a means of navigation.
Flashlights, especially if you plan to venture out into the wild at night.
Entertainment gadgets, like a music player or portable gaming device, will also need to be recharged after constant use.
Gadgets like these are used especially in large urban areas. You may carry devices like these on a daily basis, and sometimes you can be forgetful when charging them. Taking along all of your chargers can also take up valuable bag space, so having chargers built into your bag might literally take a load off.
What Should I Look For?
While you may not have heard of backpack solar panels, the market for them is now saturated with both great and poor quality products. How will you be able to find a one well worth your money, that will last long, as well as charge your devices safely and effectively? Here are a few tips you can take into stride when you start window shopping.
Determine the kind of gadgets you have, as well as how often each gadget will need charging.
The amount of time you spend in open sunlight should also affect your decision to buy backpack solar panels. If you spend a lot of time indoors far away from sunlight, then perhaps you should just bring your standard device chargers with you.
You might also need to determine how many gadgets you carry along with you on a regular basis. This will also help you decide on the size of your backpack.
The size of your backpack might also dictate the size or the amount of solar panels that can be mounted on a bag. Larger panels do not necessarily equate to more power for your devices.
Of course, you should always put aside a portion of your budget to make sure you get a good-quality solar-powered backpack. If you don't have much to spend, then you can try making your own backpack solar panels.
Environmentally conscious gadget lovers aren't the only ones who can get a kick out of this hybrid invention. People who simply carry around a lot of technology on a daily basis might find backpack solar panels an interesting solution to a common problem: Power for each and every device.