Producing green energy has never been a stylish task, until now. Electree+, with amazing aesthetics and design you can now power all your portable electronic devices such as tablets, smart phones and anything else that has a chargeable battery. The Electree+ also comes with a built in 14,000mAh battery pack which gives it the capacity to roughly charge a smart phone 9 times. The greats part about this whole project is they are trying to get a complete US based contract to manufacturer all of the Electree's.
Some of the prototype features include:
The electree+ harvests solar energy through 27 high-quality amorphous-silicon square solar panels, each ~3.7″ wide. Its branches extend vertically to an apex of ~16″ high.
Energy is stored in a 14,000mAh internal battery capable of recharging an iPhone5 over nine times, a Galaxy S3 ~seven times, or an iPad2 twice without light exposure (on a single charge).
The electree+ provides power through two USB ports (one 1A, one 2A, plenty for any phone or tablet, respectively) and an optional Qi wireless charging zone compatible with most modern smartphones and adaptable to work with iPhones (via a Qi-enabled sleeve). If available, we will incorporate new adaptive resonance technology.
If completely depleted, the electree+ will recharge fully in less than 36 hours of sunlight, meaning it only needs ~4 hours of daylight to gather enough energy to charge the average smartphone
The electree+ will be available in several colors other than white (see 'Rewards') in limited quantities.
The baseplate will be available in black and 4 alternative custom colors chosen by you, our backers (see 'Rewards').
The electree+ will be made right here in the USA!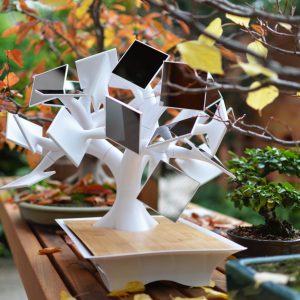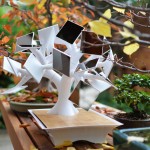 This is a great looking concept and we decided to back this project to hopefully see it come to production sometime next year. Here is a link to the Kickstarter project.